What Are the Additional Custom Patches Border Options
March 02,2022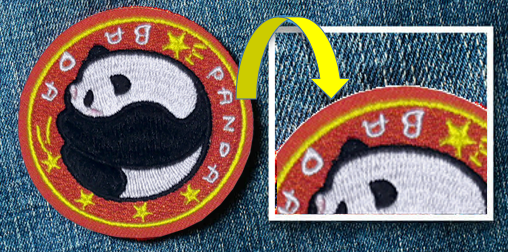 Custom patches are a popular thing when it comes to fashion and style. It has developed from being an exclusive item for men in uniform to something colorful and liberating. This development brought many options and style choices from the standard to custom made patches. Though the design could have been the focal point of the overall look of the patch, there are little pieces that makes it whole that needs to be taken great importance as well. These are the types of patches, the size, patch backing, and the shape. However, there is one element that might not have been thought of most of the time. This element is the patch border style.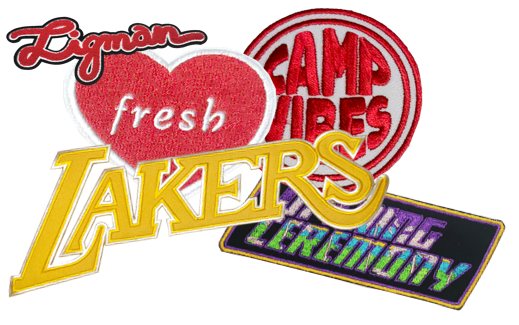 Ordering custom patches is easy and uncomplicated. That is when you know what you want, exactly. All these aspects are critical when deciding on your overall patch look. However, determining your patch-style, border can make a difference and make your patch stand out. That is why it is vital to know the patch border styles available for most types of patches. From the several border options in the market, it is essential to know which border style looks best on your patches.
1.What are the best border styles for custom patches?
As mentioned, there are several border styles for patches available in the market. However, when talking about custom patches there are two most popular border styles. These are the merrow border style and the hot cut border style.
2.What is a merrow border style for a custom patch?
We are all after durability, and that is what exactly merrowed type of border style provides to patches. This style is used for plain-shaped patches such as circle, square, rectangle, and triangle-shaped patches. It can bring them an elegant and sophisticated overall look.
A merrow border style is a classic type of patch border that has been popular for more than 150 years. This border style is named after the sewing machine company that created the merrowed patch border style. They have designed it to have a smooth and neat output, as it prevents unwanted frays around the patch edges. Made possible by its 1/8" border that overlooks the patch edge. Though it tends to add weight to the patch, it undeniably hastens the durability of the patch.
Merrow edge border style is a wrapped around border style that adds to the vintage feel of a patch. It can be used for most types of patches such as embroidered, printed, chenille and bullion. But it works perfectly with woven patches as it enhances its traditional look.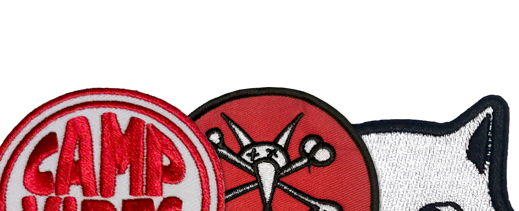 3.What is a hot-cut border style for custom patches?
While merrow border style is ideal for most geometrical standard-shaped patches, a hot cut border style is greatly considered for custom-shaped patches. This border style features a sharp and detailed edge that is why it is best for custom-shaped patches. Unlike the merrowed border patch style, hot cut border patch style does not overlock the edges of the patch. The stitch goes around the edges of the patch giving the patch a polished and sophisticated appearance.
Hot cut border style is done by stitching and cutting the edge of the patch close to the stitched border with a laser or hot scissors. The edges will then be melted by the hot cutting tool, therefore, creates a non-frayed edge. What's most users distinguish about this border style is its reliability. And its flat feature hides any separation from the garment it is attached to. Hot cut style offers more flexibility towards custom patches.
Patch Types and Patch Border Styles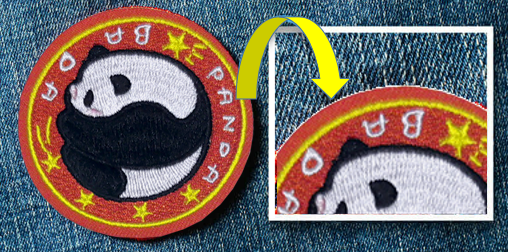 Here are the seven types of patches together with their corresponding ideal border styles:
Embroidered Patch – Merrowed and Hot Cut Border Style
This classic type of patch is ideal for a merrowed border patch style and hot-cut border style. This is a type of patch that stitches its threads through the fabric, establishing a rich texture. Therefore, it can be ideal to have its border overlock on its edges. But we can have it also in hot cut border-style since it is already sturdy and reliable. Both can give it a smooth and well-polished look after all.
Woven Patch - Merrowed and Hot Cut Border Style
Like the embroidered patch woven patches can both have a merrowed and hot cut border style. This type of patch is a thinner version and is ideally acceptable for a detailed design. A merrowed and hot cut border-style lessens its feature of a flat-feeling texture.
PVC Patch – No Border Option
Since this type of patch involves no threading and is made primarily of a PVC material, there is no border option available. However, because of this as well, a hot-cut border can be considered. Still, it is proven to be durable and flexible from all the patches types.
Printed Patch – Merrow and Hot Cut Border Style
This high a detailed type of patch can cater to a merrowed border patch and hot cut border style. It has no boundaries when it comes to designing probability. It is also categorized to have a broad option when it comes to its border style.
Leather Patch – No Border Option
This leather patch is another classic type of patch, but it does not require a border option between a merrowed or hot cut. Considering it is made of leather, it has a different requirement for its border styles. But like other patches, this leather patch can also be attached by sewing, iron-on, or Velcro on any clothing.
Chenille Patch - Merrow and Hot Cut Border Style
This well-textured patch is ideally favorable for a merrowed border style and a hot-cut border patch style. Its fluffy and 3D look needs to be locked and finely kept, especially on its border edges. This type of patch is commonly used for varsity sweaters, jackets and awards.
Bullion Patch - Merrow and Hot Cut Border Style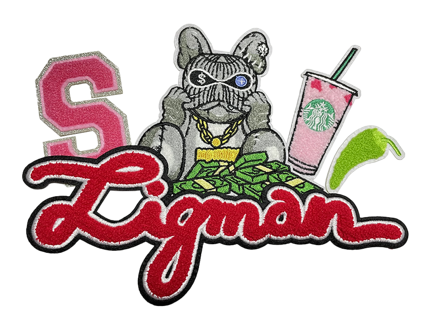 Another type of patch that can handle merrow and hot cut borer style is a bullion patch. This type is a high-end patch type preferred by elite members of a club and the military. Though it caters to a simple layout it also gives off that rich overall look because of its metallic design.
There are no limits when it comes to patching style and border style options. Just be cautious of the above requirements and always talk to experts when it comes to border-style choices. Always take into consideration that border style is as important as the overall design layout of the patch.
We at 4inCustomPatch®offer a variety of high-quality patches in the market. We provide hassle-free and 100% customer satisfaction when it comes to our services and ordering process. We also offer merrowed and hot cut borders style for our patches.
We at 4inCustomPatch® always adhere to quality service and delivery efficiency. Our team is equipped with the right knowledge to assist our clients in designing, choosing patch types, and matching borders styles for their patches. We have patches for bags, jackets, jeans, shoes, hats, shirts, and many others. We cater to a wide variety of custom patches; we are open and ready for any possible adjustments and customization our clients need. We'll give you that ample selection to give your patch that needed edge. Check on our web store for ordering details and patch style options.

Back to blogs