Iron On Patches VS Sew on Patches
October 17,2022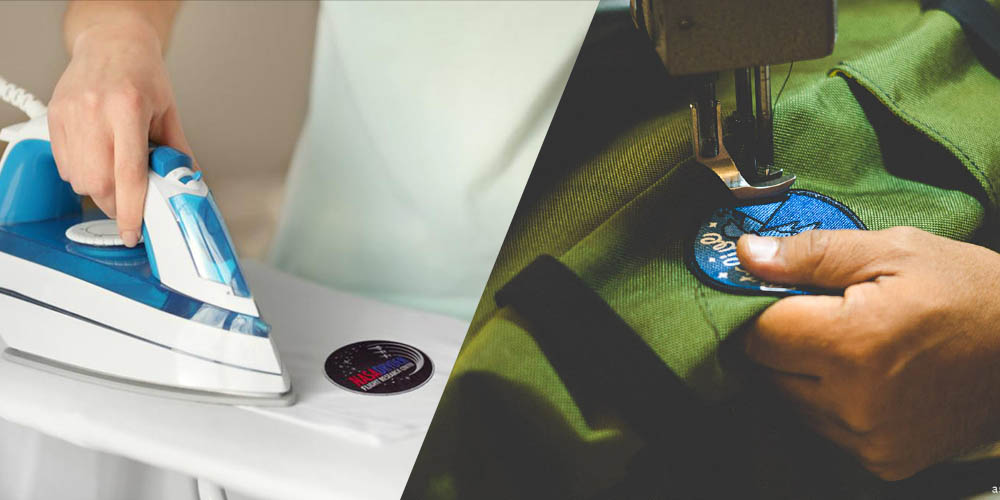 Many people have already used patches, especially iron-on patches and sew-on patches, for several years. It does not only serve practical purposes such as mending torn-out clothes and as labels for people in uniform. It has now brought a big deal in the fashion industry and some in the professional and political spectrum.

True, there are several steps to take to create a patch. One of the essential options to decide ahead of time is the type of patch backing to use. And both Iron-on patches and sew-on patches are among the most prevalent type of patches since their popularity came to rise. These attachment methods offer versatility and durability that other backing methods do not have. While the two can be used in many similar ways, some points distinguish them from each other.

Let us go over and learn more about Sew-on and Iron-on Patches.

What is the difference between Sew-on and Iron-on patches?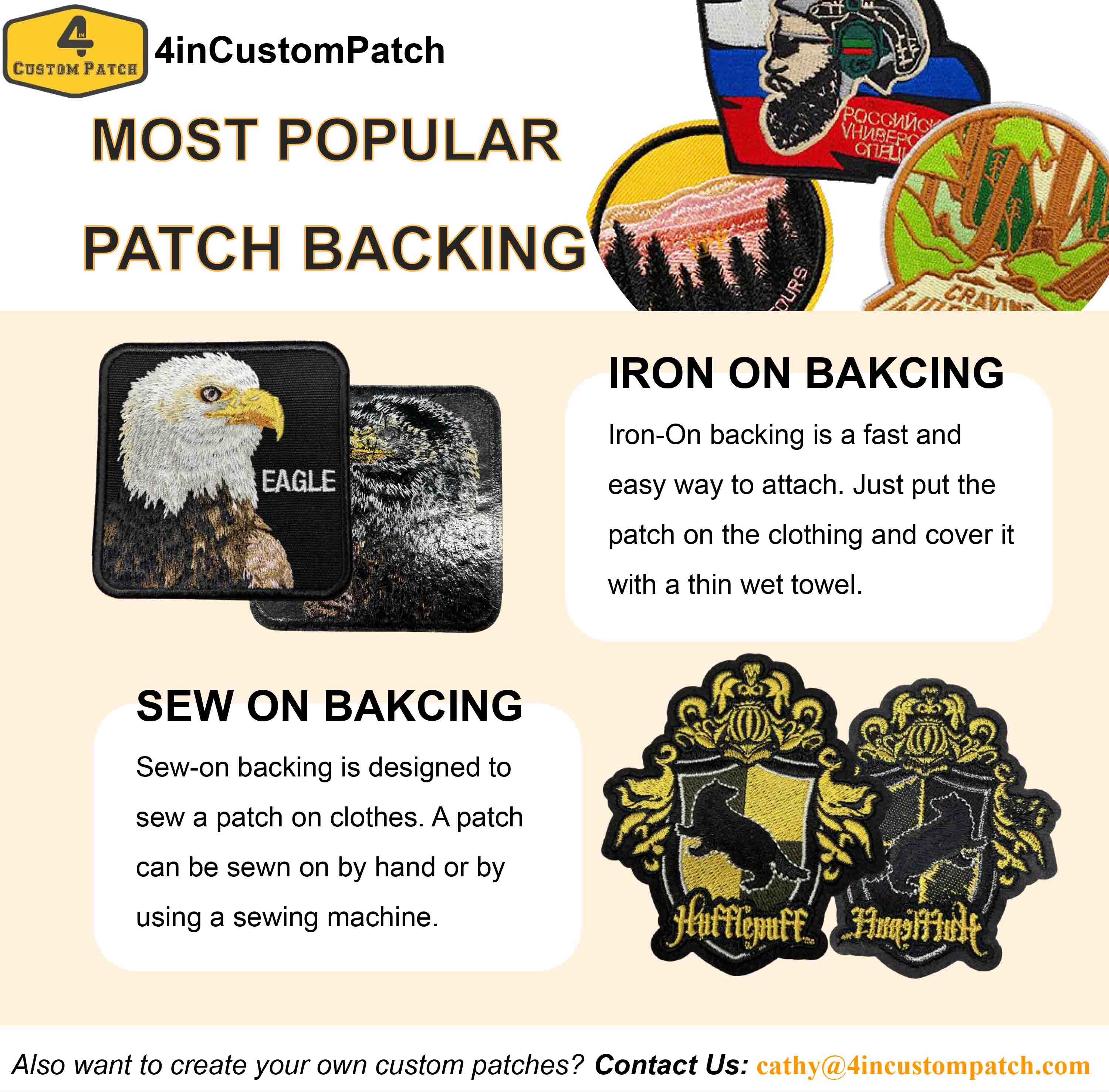 Iron-on patches have a layer of adhesive glue on their back portion. And is applied a heat pressure to stick on the surface. It will take only a couple of seconds to attach to the garment. Indeed, an ultimate time-saver and a convenient way of having your patches on. But not all patches can use an iron-on backing method. Only embroidered, woven, printed, chenille and bullion.

Two kinds of adhesive used in iron-on patches:

1. Thick. It looks like white, smooth, and cloudy layers of glue with a plastic-like texture. The patch usually feels stiff and cannot be bent easily.
2. Thin. It looks like a dryer sheet of thin layers of glue. It is a rough fabric-like adhesive that is flexible.

Sew-on patches are one of the oldest methods of attaching patches to clothes and other garments. And note that any patches can be sewn-on. However, this method requires a bit of effort and time. It needs a little sewing skill to attach the patch to the clothing. This takes more time to apply, but it is sure to give a durable yet flexible finish.
How to Sew-on and Iron-on on a patch?
You can sew on patches in two ways: (1) by hand stitching and (2) by sewing machine. Either of the two depends on the skill and availability of your materials.
How to Stitch A Sew-on Patch?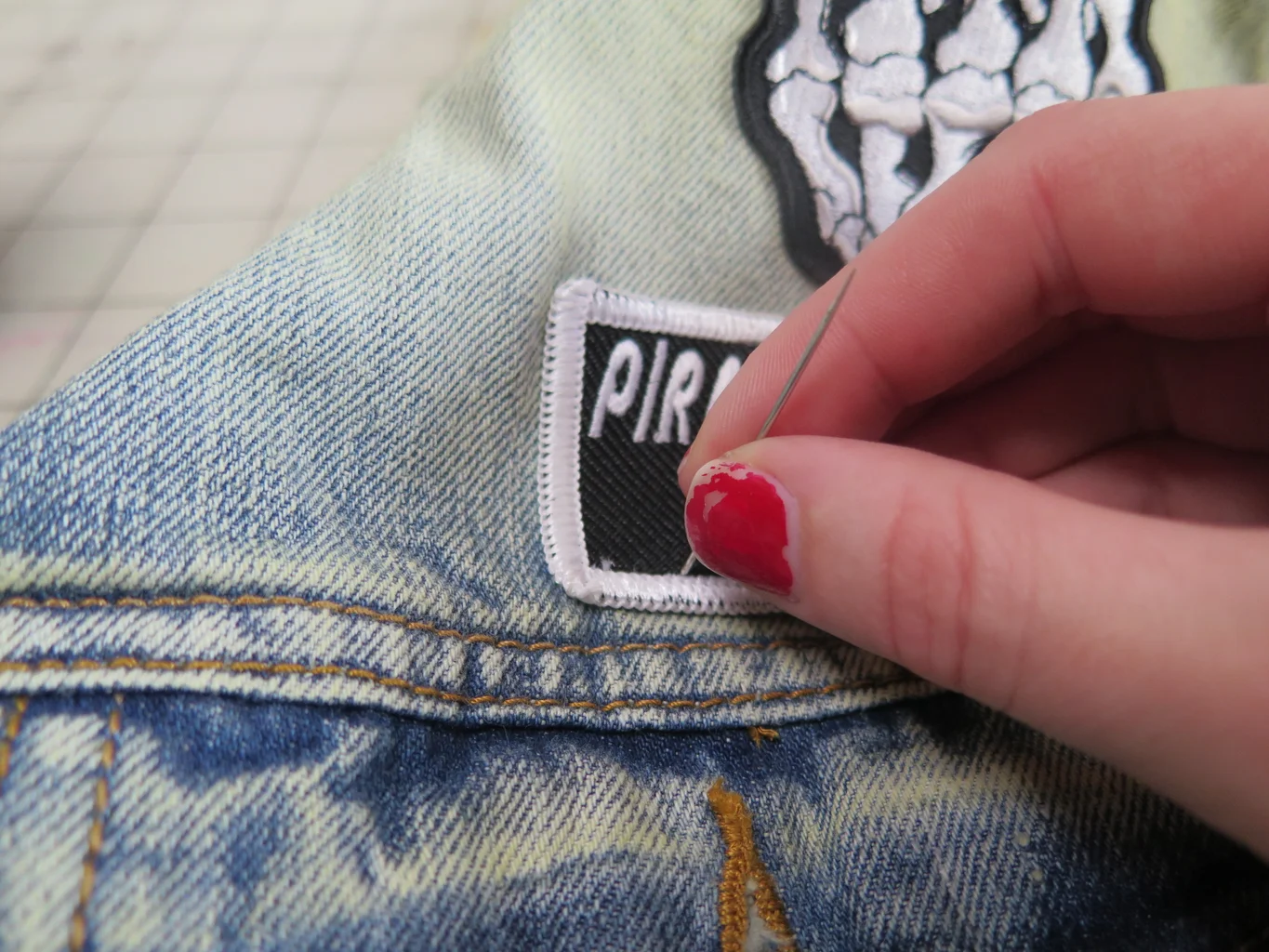 1. Pick a sewing needle and thread. You can choose a thin needle if you have a lighter fabric to attach to. For denim fabrics or canvas, opt for a thicker needle. For the thread, choose something that matches the color of the material to attach. But some opt for a contrasting color to make the patch pop out.
2. Ensure that the fabric is clean and without wrinkles. If your purpose of patching is to cover a hole, make sure to trim off excess threads around it.
3. Now, place the patch properly on the cloth. If you already have it positioned right, you can secure it with sewing pins. Make sure that the pins won't get in the way.
4. Start stitching. There are many ways or types of stitch you can use. Choose the one that you can do best or most comfortable. If you use a sewing machine, position it on its need plate and start sewing.

Iron-on patches can be sewn for further durability. But it can be left ironed alone without stitching and still gives the quality required. In every iron-on patch, it accompanies an instruction process. Generally, the following are the steps:
How to apply Iron-on Patches?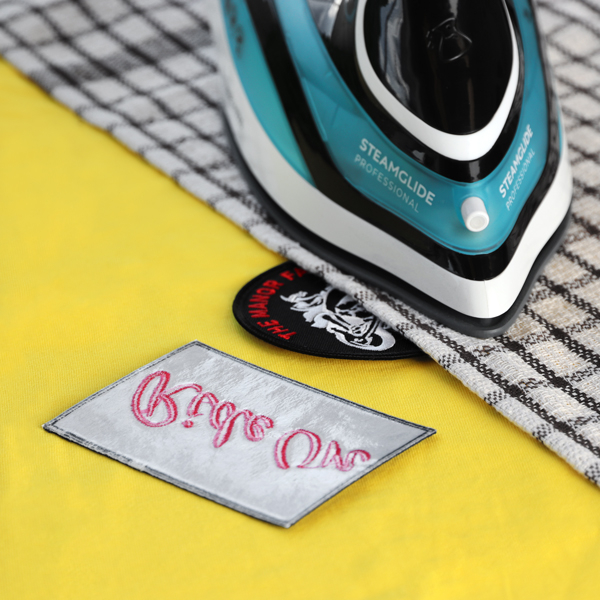 1. Set the Iron. The first thing you have to do is to set the iron to medium-high heat. This is to prepare the iron and let it heat accordingly.
2. Lay the cloth on a flat surface. To ensure everything is balanced and the patch has a good grip on the fabric, lay it flat on a surface.
3. Position the patch. Now, locate the patch where you want it placed permanently. Mae sure the front side of the patch is facing you.
4. Grab a fabric to cover the patch. Lay a piece of cloth on top of the patch to protect it from the iron heat.
5. Apply heat. Place the iron on top of the patch's fabric and apply pressure.
6. Iron the other side. To ensure everything sticks, turn the cloth inside out and apply heat pressure on that side.
7. Check its durability. Carefully check on the durability of the ironed patch. If needed, you can apply heat pressure again.
How to remove Sew-on and Iron-on patches?
Removing the Sew-on patch is easy. You can use a seam ripper to fasten the unstitching process.
1. Check or bend the cloth to expose the stitch between the patch and the fabric.
2. Insert the sharp tip of the seam ripper and start to go against the stitch.
3. Push the blade of the seam ripper against the thread and repeat to all the stitches.
4. Clean and remove the cut threads with tweezers or small scissors.

While removing a sew-on patch is that quick, an iron-on patch needs a little more effort.
1. Put a sheet of wax paper over the patch.
2. Press the hot iron on the wax paper.
3. Use a tweezer to try to check if the patch adhesive has softened.
4. If the bond is still complex, get the hot iron again and press it over the patch until the adhesive softens.
5. Once the patch glue has softened, you can easily lift the patch off the garment.
6. To clean it thoroughly, wash the fabric.
Who can use Sew-on and Iron-on Patch?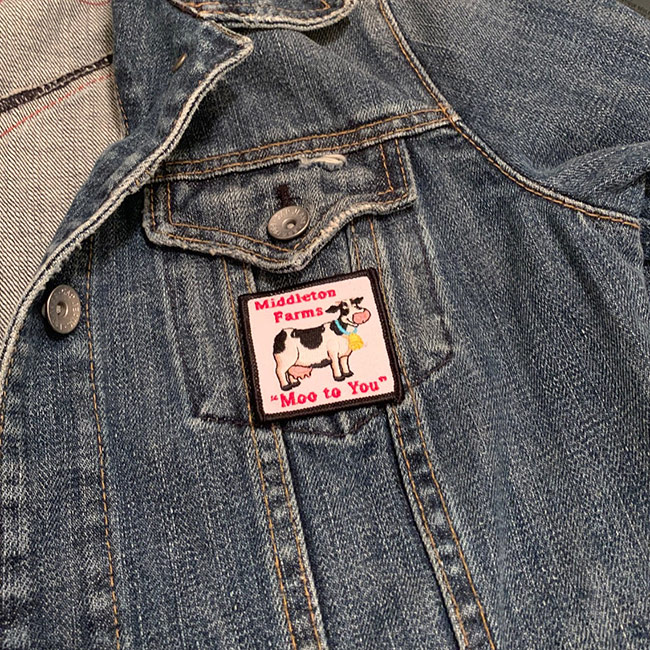 There are only two specifics when it comes to who can use sew-on and iron patches:
1. Permanent but easy to remove and change – If you are someone who wants permanent and durable patches but want them removed or transformed into a new patch in the future or from time to time, a sew-on patch is your best choice. As per the above steps to remove sew-on patches, there is not much damage that can cause both on the patch and the garment.
2. Permanent and hard to remove or change – If you are someone who needs a permanent patch on their clothes and needs no alterations soon, an iron patch best fits you. The process of removing it can cause trauma to both the cloth and garment if not done correctly. And this will cause not being able to change or replace the patch.
Where to Get the Best Sew-on and Iron-on Patches?

For the best sew-on and iron-on patches online, you can go to 4incustompatch.com. They have all the options you need for everything about patches. From simple to complicated customized patches, they have their team ready. 4incustom patch offers seven available types of patches, embroidered, woven, printed, chenille, PVC, leather, and Bullion patches. They also offer both iron-on and sew-on patches and other types of backing.

4incustompatch has the facility and means to provide high-quality products worth your hard-earned money. They are backed by experienced professionals and a better online ordering system for a better customer experience.

Join 4incustompatch's thousands of loyal customers who have experienced their superb product quality and service. Enjoy significant discounts as well. Check on their website today!
Back to blogs