Biker Patches Rules and Etiquette — You Need to Know
March 01,2022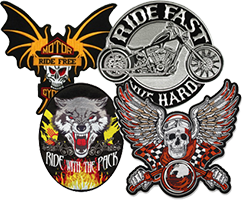 Biker culture is known to be bound in the concept of customization. This concept does not only involve bikes customization. It also reflects their social or communal participation, but as well as their fashion and dressing choices. Most of these groups create their image as a whole, and every member should follow it. Hence, the use of helmets, boots, jackets, and others. The most distinctive element in a biker who is in a group or actively participating in a biker culture is a biker patch in every item he has.
Biker culture involves various aspects of motorcycling and its subculture. It is about clubs, groups, or individuals who are primarily interested in any activities involving motorcycles. It chiefly encompasses activities in two aspects such as the social community and the mode of transportation. And these assemblies have specific rules that each of their members loyally follows.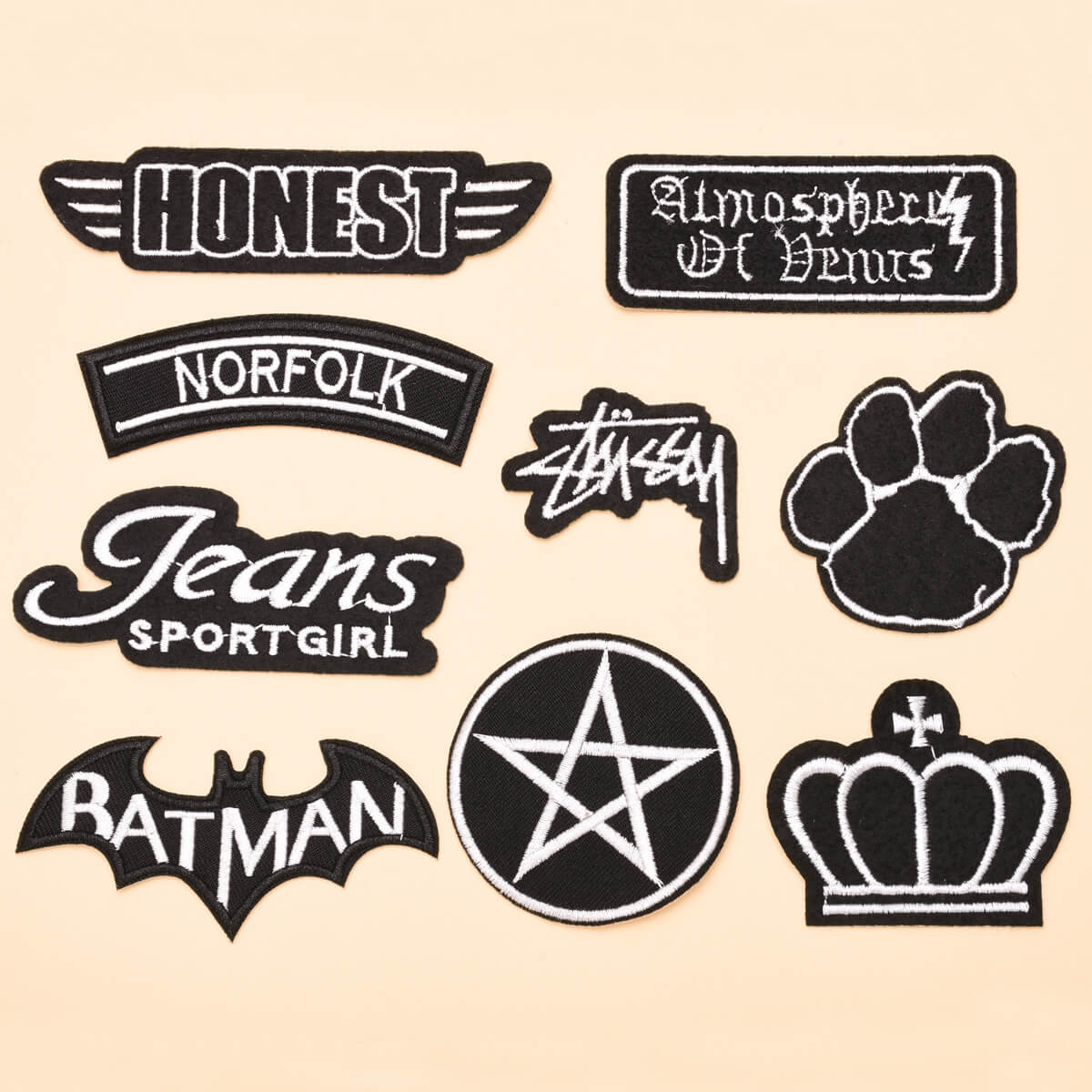 As per biker culture concerns, biker patches are not for decorative purposes only. It is an imperative piece that conveys their message as a group. There are things that only these specific biker groups understand. And should not be decoded to other clubs. A biker patch is embodied with the etiquette and rules that collectively reflect the type of biker culture is in the area.
Biker Patch History and Origin
The American Motorcyclist Association was founded in the year 1929 in the United States. The biker culture was born at this time and was spreading abundantly. The first biker club members are a group of friends who love the pleasure of riding bikes. They started to make the emblems on their clothing that would identify them from the other set of bikers. AMA, on the other hand, recognized this initiative and gave recognition to these efforts. They facilitated contests as well.
AS the 2nd World War ended, many of the war veterans discovered solace in motorcycling. But, unlike the previously established club members, these veterans wore military clothing and fighter pilot jackets and boots. Many of these newly established groups were also involved in illegal competitions and activities. They are no anymore following the rules and regulations set by the American Motorcyclist Association. Thus the first outlaw bikers emerged.
In 1947, the AMA affirm that 99% of American motorcyclists formally belonged to their association and has since respected their imposed law. Thus, having 1% of the population remains the outlaw biker's club. They have made the patch, their symbol. Differentiating themselves from the AMA, they have divided the back patch into three areas. Known as "colors" these patch division includes the top patch (top rocker) bearing the club's name, the central patch (central rocker), the club's logo, and the bottom patch (bottom rocker), the place where the club originated. Some clubs also indicate or add the initial MC on the patch combination that identifies them as a moto club.
What is the most common biker patch meaning?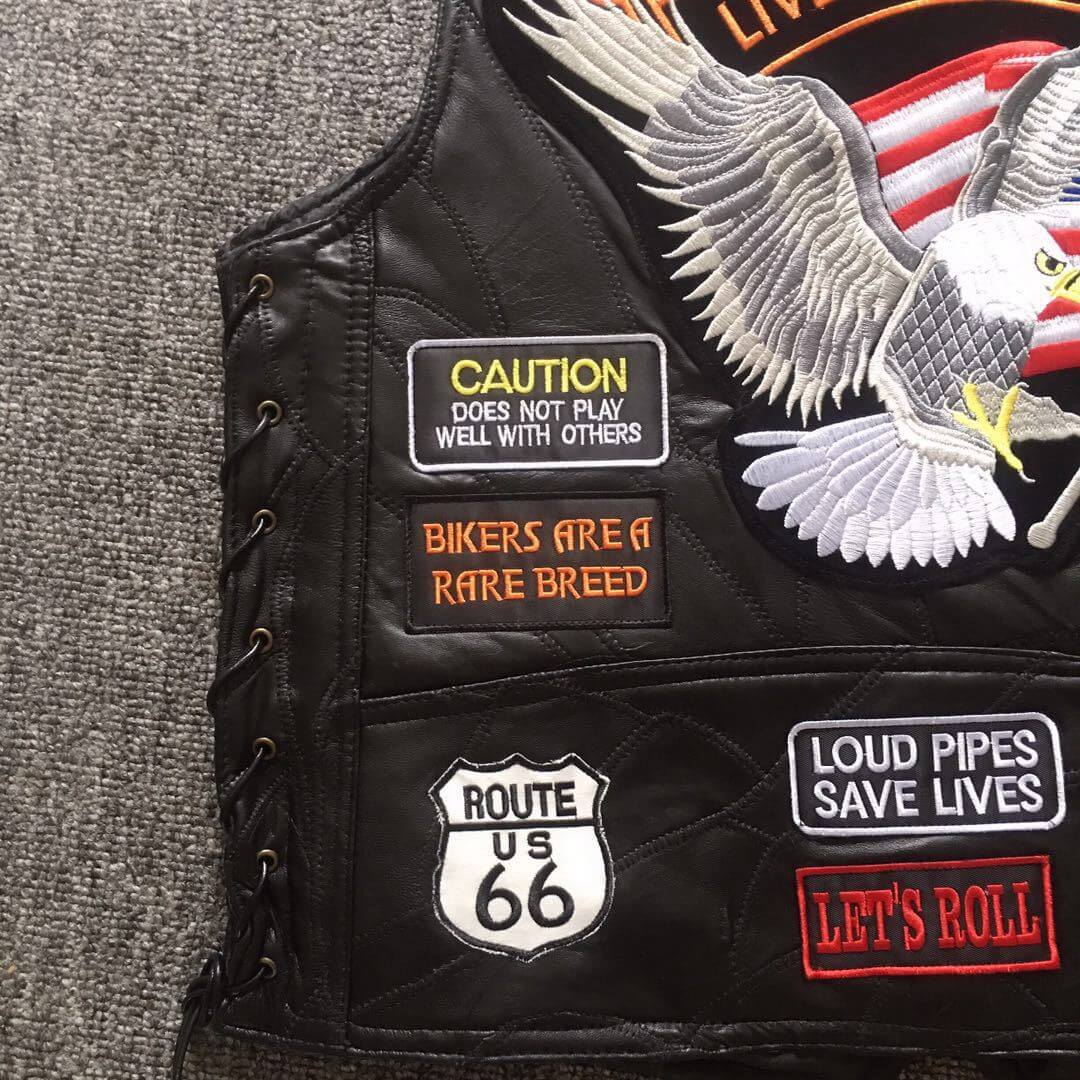 Here are some of the most popular biker patches and their meanings:
· Men of Mayhem – This MC patch means that the motorcycle member has already killed all for the group.
· Bad Influence – This biker patch meaning is to give the impression that the one wearing it is crazy.
· FTW – This acronym usually means "For The Wind". However, in the biker culture, it means "Fuck the World". This motorcycle club patches meaning shows a biker's ultimate pledge to rebellion.
· Malta Cross – Among the many patch definitions, this is an international symbol having a positive meaning. It represents courage, protection, and bravery.
· White Cross – A biker who has this symbol means he was able to desecrate a tomb. This activity takes something from the deceased.
· Red Cross – This motorcycle patch is gained when they have a homosexual relationship with a testimonial.
· Number 13 – This number symbolizes that the bearer smokes or sells Marijuana. The number 13 represents the thirteenth number in the alphabet, which is the letter M.
· Ace of Spades – This biker patch is known as the death card. Wearing this would tell that the biker is willing to kill under the group or has done it already.
· Skull and crossed bones – This is another patch that has a strong message. This symbol means "Respect Few, Fear None". This may also indicate that the wearer has already killed someone in honor of the group or has mocked the death of someone.
· D.F.F.L – is an acronym that means "Dope Forever Forever Loaded". This represents only means that the biker has always carried drugs or has all-out easy access to them.
· Number 8 ball – This one biker patch is about gambling. This black ball with a number 8 biker patch means that the wearer believes that life is only a game, and it depends primarily on luck and what you put on the table. They expect that life will only be better or worse in time.
Biker Patches Rules and Etiquette
Biker clubs and organizations have not published a write-up on their rules and regulations. But some are commonly known and can be easily noticed in their way of dressing and behavior. It is imperative also to note that every biker club or groups have their own rules and regulations with their patches. You have to know this so that you will know what motorcycle patches to avoid wearing. These are the following motorcycle club patches rules and etiquette.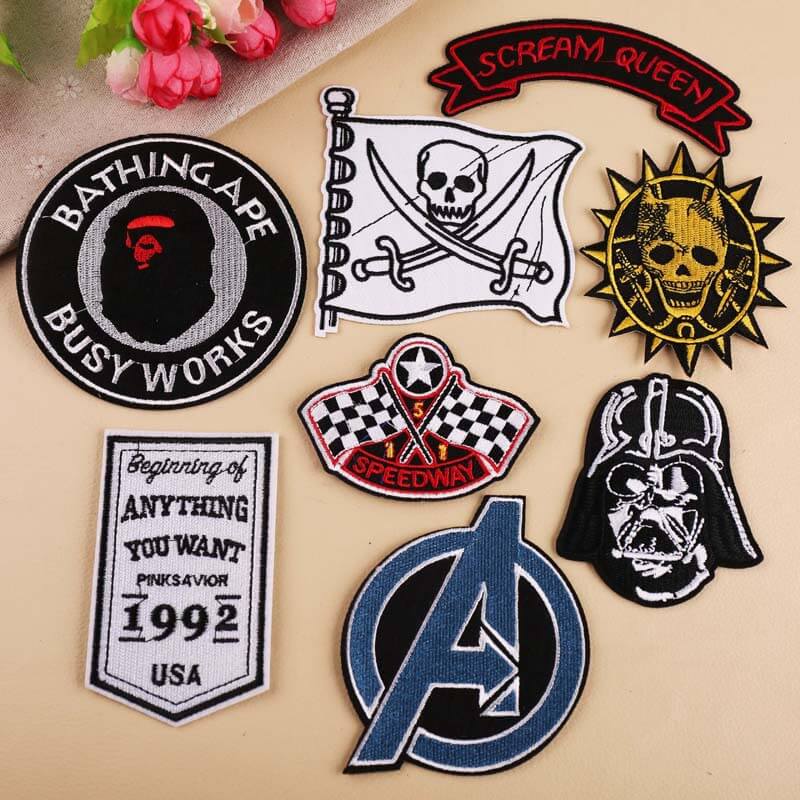 · Territory – A biker can wear their colors in their territory, but never in the area of other clubs or groups.
· Driving – There are only some clubs that do not allow wearing colors while driving. This is because you might get away or be in a territory not in your club's jurisdiction. This might indicate danger or trouble when some other biker club saw you.
· Dismissal – It is a rule to surrender anything that belongs to the club or organization if one is already labeled dismissed or not a member. This rule is the same with biker clubs, where a dismissed member has to surrender his color behind.
· Presentation – Biker clubs have their own rules on the wearing of their patches. But frequently, motorcycle patches are usually worn on a sleeveless vest as vest patches.
· 1 - Piece Patch – This patch represents a social motorcycle club, a family club, or a riding club. This type of patch needs to be approved by the local motorcycle club in your area. They usually check on the details of the design. There might be problems if it has a similar pattern on other local motorcycle clubs in your area.
· 2 - Piece Patch – There are many indications and meanings of a 2-piece patch that is why you have to be more cautious in using this type. You need to ensure that the design does not in any way resembles any layout of a local motorcycle club in your area.
· 3 - Piece Patch – Wearing this patch means the biker is a part of a traditional motorcycle group or an outlaw club.
What are Biker Patches Made of?
Like other clubs or groups, biker clubs also have this sense of pride to have something of their own alone to express their sentiments and beliefs. They wear patches in their way to show the public or other people how they see things and life. They wear them to display that they are proud of their organization and they are proud of themselves.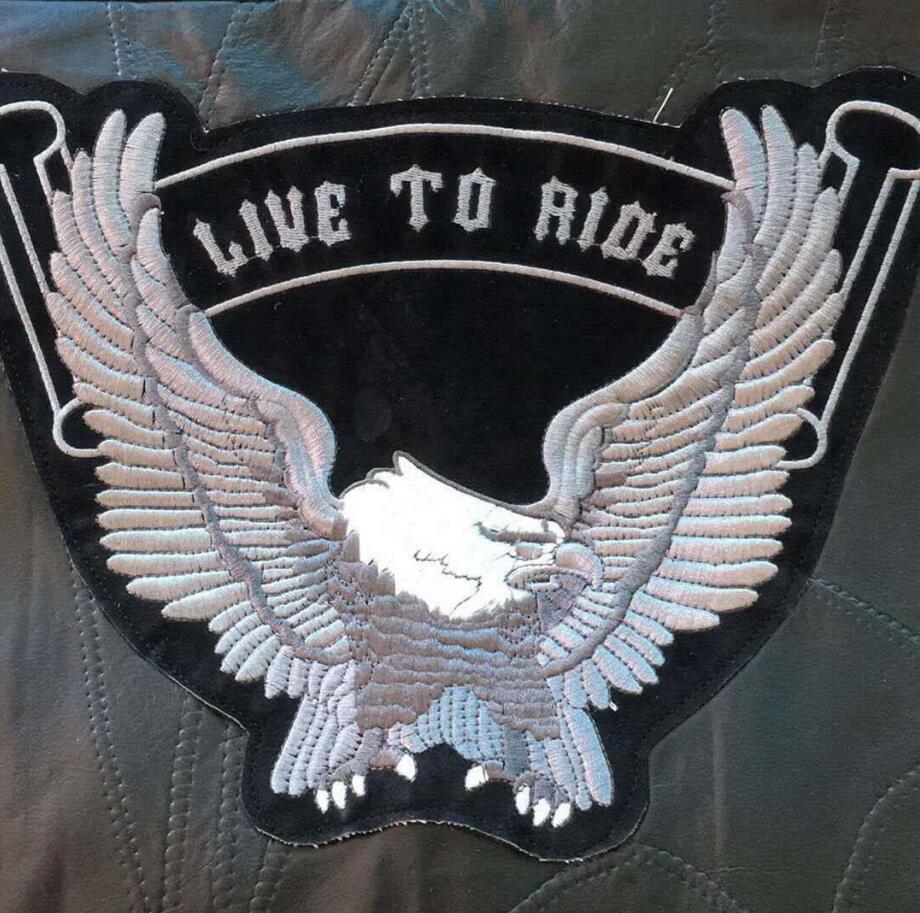 Typical biker patches are made of denim, leather, or heavy cotton. They use heavy-fabric types because they need to be long-wearing and live up to many years even after many washes. It also holds up to its element of being cool and chill. Most bikers wear leather vest patches and biker jacket patches. They usually wear this when they have activities as a group and or in their small casual and regular meetings.
Biker activities are usually out in the sun, reason why they need a custom motorcycle patch that can withstand any weather condition. A heavy fabric type of patch can do this well.
How to Put on Biker Patches?
There are many kinds and types of MC patches. Commonly as mentioned, they use heavy fabrics for this type of patch. In this, we can attach these biker patches by gluing them on the clothing or sewing them. Gluing the patch into the fabric is a fast and direct way to affix it but be reminded to use the right glue for patches, especially on leather fabrics. Some glue can discolor fabrics made from leather.
Sewing the biker patch is the traditional way and most effective. It is a secure method that most would prefer. It can be hand-sewn, or you can use a sewing machine if available. The only thing you have to note about using this method is that it will leave marks if taken off on the fabric, especially on leather materials.
Can I order Custom Biker Patches?
There are many ready-to-buy biker back patches in the market. But if you want something to customize, sure though there are stores that offer such service. One custom patch manufacturer today is Shop Custom Patches. They offer different types, sizes, colors, and a variety of patches. They specialize in custom patches.
Shop Custom Patches takes pride in the quality service and product they offer to their clients. Additionally, their upgraded 100% effective online ordering system gives a more efficient experience to their customers. They indeed value high standards and quality efficiency in everything that they offer.
Check on their website at shopcusotmpatches.com for your custom biker patches needs.

Back to blogs